RANGER SCHOOL: MOUNTAIN PHASE
The 5th Ranger Training Battalion operates the mountain phase which is twenty-one days long and is subdivided into four sub phases: lower and upper mountaineering, mountain techniques, and tactical operations. Here, students will negotiate mountainous terrain, conduct day and nighttime repelling, build rope bridges, and move cross-country conducting day and night combat missions.
After arriving at Camp Frank D. Merrill, the students are assigned billets within the garrison cantonment. While in garrison, PT is continued with runs of various distances. The first three days are spent within the camp area learning how to tie knots to secure ropes and climbing equipment for mountain operations and how to secure and anchor their rappelling lines. Basic rappelling skills such as rope handling and belaying are also taught prior to each student's initial rappel down a 20-foot wall of wooden slats.
Moving out of the cantonment area on the fourth day, the students tackle a sixty-foot cliff where they learn how to individually rappel with and without rucksacks. More advanced rappelling techniques include buddy rappelling with an 'injured' comrade strapped to the back and a stretcher assist rappel where two Rangers assist a third down the cliff while he is strapped to a stretcher. Successful completion of this part of the course includes passing the knot and belaying test and successfully performing three daytime rappels and a nighttime rappel with rucksack (during the winter months a fixed rope descent may be substituted for the nighttime rappel). Of the three daytime rappels, one must be with rucksack and a second must be accomplished with only two bounds against the cliff.
Following completion of the lower mountaineering phase, it's on to upper mountaineering for days five and six. On top of Mount Yonah, the highest peak in Georgia, students will learn how to conduct free climbs, suspension climbs, and how to use safety lines and mountaineering equipment to climb as well as descend.
The field training exercises commence on day eight and involve tactical operations at the platoon and company level. Students conduct the same type of operations as in the past–reconnaissance, ambush, raids, airborne and air assault–but the accomplishment of these missions is much more difficult than at Benning because of the environment in which they have to be performed. Moving along inclines and ridgelines, landing in small drop zones–the smallest being Garrett's Farm at 150 meters by 100 meters with a stream and a Y-shaped band of trees running through the middle of the DZ–and landing zones, makes each mission a serious challenge. There are more injuries in this phase than in any other. Everything from scrapes, bruises, and sprains to more serious injuries such as pulled or torn muscles, dislocations, and broken bones are common occurrences. To successfully complete the mountain phase with the minimum of injuries is a significant accomplishment in and of itself.
Next: Read about a day in the life of a Ranger student going through the Mountain Phase.
---
Referenced from The Coveted Black and Gold: A Daily Journey Through the US Army Ranger School Experience
© LTC JD Lock. Printed with permission.
---
Please help support ARMi a 501(c)3 tax-exempt organization supporting Rangers past, present and future.
The Coveted Black and Gold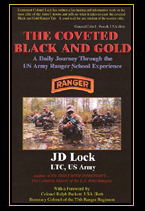 John Lock's vivid description of the Ranger Course explains why it is the most physically, mentally, and psychologically demanding training provided in the U.S. Army. The purpose of this extremely grueling regimen is to develop combat skills of carefully selected and prepared officers and enlisted men. They are required to perform effectively as small unit leaders in a realistic tactical environment under the physical and mental stress approaching that of ground combat. They develop individual combat skills and abilities through the application of leadership principles. Tactical exercises also increase the Ranger trainee's capability to plan and conduct dismounted infantry, airborne, airmobile, and amphibious independent squad and platoon-size operations. Graduates return to their units with the never-ending mission of sharing their knowledge and skills to build a better, more combat-ready Army. Receiving the Tab is only the beginning; a Ranger is expected to earn that Tab every day of his life.
COL(Ret.) Ralph Puckett
Honorary Colonel of the 75th Ranger Regiment