M67 90mm Recoilless Rifle
M67 90mm Recoilless Rifle
Among Anti-tank weapons employed by Rangers, especially in modern times, none are as storied and despised as the M67 90-mm Recoilless Rifle. The 90 was used by the 1st and 2nd Ranger Battalions prior to the creation of the 75th Ranger Regiment. It was affectionately known as the "stovepipe" because of its shape, as well as a few other nicknames by anyone who's ever humped it. The M67 is designed to be fired on the ground using a rear bipod mount and a forward monopod for stability. The gunners also trained to fire it from the shoulder. The 90 is loaded via the breech, and uses the M103 fixed focus sight for target acquisition.
The 90 was carried by a two-man AT team. The teams trained together as part of a weapons platoon in each Ranger Company. For operations, the AT teams were attached to a platoon. In heavily wooded areas, the responsibility of the Assistant Gunner was to assist the gunner in maneuvering the 90 through the morass of vegetation typically encountered. There were four rounds designed for the M67. These were: Anti-Personnel flechette rounds, HEAT, HE, and Armor-piercing. The rounds typically favored by the Ranger 90 Gunners were the HEAT and AP Flechette rounds. The flechette rounds were especially devastating. We practiced on plywood at three hundred meters and the darts would pierce right through it.
The greatest success story of the 90 was in October 1983 during Operation Urgent Fury in Grenada. Two lightly armored vehicles were approaching the tarmac at Point Salines Airport. The vehicles were manned by Cuban soldiers who intended to attack the Rangers of the 1st and 2nd Battalions who had just landed. They were quickly defeated by a Ranger 90 gunner.
The 90s were eventually phased out in favor of the M3 Carl Gustav 84-mm Ranger Anti-Armor Weapon System (RAWS) in the late 1980's.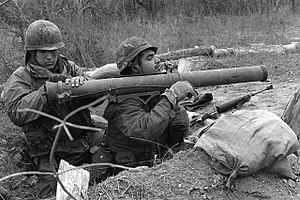 Primary Function Antitank weapon
antipersonnel weapon
Manufacturer Department of US Army
Caliber 90-mm
Length 53 in
Weight 35 lbs
Max Effective Range 2100 m
Sight Optical, 3x graduated in 50 m increments up to 800 m
Ignition Percussion
Muzzle Velocity 218 m/sec for HEAT
376 m/sec for AP
By Tim Davis
---